Cassidy Christian at G.I.R.L 2017
Hang on for a minute...we're trying to find some more stories you might like.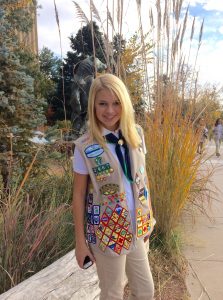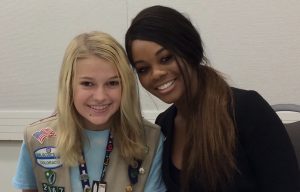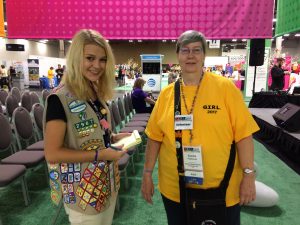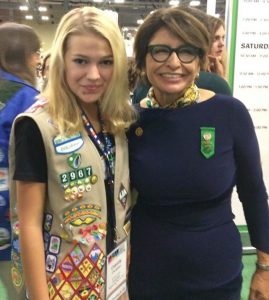 Go-getters, innovators, risk-takers, and leaders gathered together in early October for the G.I.R.L 2017 event hosted by Girl Scouts of the USA. Located in Columbus, Ohio, this mega event is for a few lucky girl scouts to learn from powerful female leaders, such as Gabby Douglas, Chelsea Clinton, and Katie Willcox. Attendees also got to explore self-empowerment with leadership and inspiration tools. The G.I.R.L event is an opportunity for only a few but Mountain Vista sophomore, Cassidy Christian, was one girl scout who got the chance to experience the event.
The opportunity fell in Christian's hands after she applied to Girl Scout Communications and Public Relations Directors; she submitted a two-minute video about her Girl Scout experience. Christian was later selected to be one of five high school girls across the nation to participate in the National Media Team at the G.I.R.L convention.
Christian believed the best part of her experience was getting to hear stories from the guest speakers. Being part of the media team gave her the responsibility to report on current events and interview important people at the convention. "For me, the most memorable part of the convention was interviewing the CEO of Girl Scout's USA, Sylvia Acevedo. Besides being an entrepreneur and strong businesswoman, Sylvia is also a rocket scientist! She is such an inspiring leader," Christian said. Christian interviewed Gabby Douglas and listened to Mae Jemison, the first African American Women in Space. 
Christian has participated in Girl Scouts since kindergarten. "I love spending time with my friends camping and earning badges. Since middle school, I have participated in the Girl Scout's local media team. I've been on 9News, had multiple radio interviews, and been featured in multiple newspaper articles. I am also one of 12 girls in the state on the Older Girl Advisory Board. On this board, we come together and talk about how to improve the older girl programs," Christian said. Christian plans to become a lifetime member and work toward the Gold Award, which is equivalent to a Boy Scout's Eagle Award. The Gold Award allows girl scouts to have a foundation for having successful solutions to future issues.
Christian learned that Girl Scouts sells 800 million dollars each year from cookies. Christian has expanded her knowledge and has become empowered from this experience. "I learned that Girl Scouts is an amazing organization with over two million members. 75% of female senators, 52% of women in business, and 100% of the female Secretaries of State have been Girl Scouts," Christian said.
Being only a sophomore, Christian has a bright future ahead of her as she has already taken each opportunity that comes her way.