Thankful Thursday
AJ Magil, Senior Editor
November 12, 2021
Starting off Veteran's Day with Hershey's kisses and a quote from the iconic Princess Diana, NHS president Brayden Tuers acknowledged and appreciated the veterans of Mountain Vista. NHS continued the gratitude by having announcements about what the students and staff are grateful for.
The counselors showed their appreciation for themselves by providing the teachers with a coffee bar.
Sharing the warmth of the community, English teacher Natalie Barnard said, "We all appreciated having fresh coffee throughout the day."
While the staff showed appreciation for each other, the students showed appreciation for their peers and themselves. Students wrote notes on hearts and hung them in the upper hallway saying what their favorite part about themselves is. During lunch, the students wrote thankful notes to their friends or a random student. For all the school to see, FCCLA put up a thankful tree for students to anonymously write what they are grateful for.
Being thankful doesn't have to stop after Thursday. Showing your gratitude towards people you know makes everyone involved more happy so spread the happiness.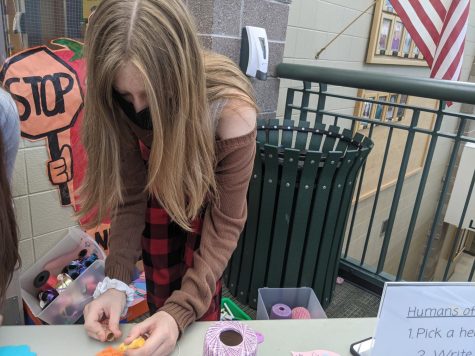 Picking out a color, Natalie Essig, 10, places her thoughts down on the paper hearts provided for reflection on what students are grateful for at the MVHS library on Nov 11. "It's really helpful for a lot of people, especially mentally," Essig said. Essig had jotted down how grateful she was for her hobbies.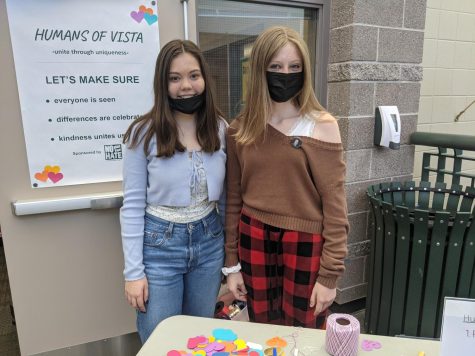 Standing in front of the MVHS library, Sian Quinn, 10, takes a look at the paper hearts posted with people's thoughts on Nov 11. "I think [the hearts] are really beneficial," Quinn said. The Wellness Week events had excited Quinn and left a good impression.