UPDATE: Kesha's Court Battle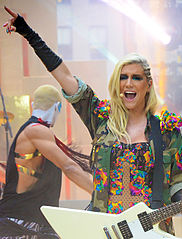 Despite her loss in court Feb. 19 to music producer Lukasz "Dr. Luke" Gottwald, there may be hope for singer Kesha.
Sony Music is rumored to consider dropping Dr. Luke a year earlier than his contract expiration due to the controversy surrounding him and Kesha.
Kesha signed with Dr. Luke's Kemosabe records in 2005 and accused Dr. Luke of sexual abuse and rape in 2014. In February, a judge ruled that Kesha could not get out of her six-album contract with Dr. Luke, sending other stars and fans into an uproar.
Someone familiar with Sony upper management strategies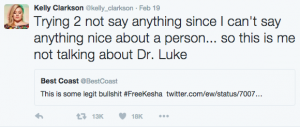 reportedly told an entertainment news website, TheWrap, "There is no contest. Kesha has no case in regards to her contract but they can't afford the Adeles of the world out in the streets calling the label unsupportive. The fact that this hasn't already been taken care of with Luke is confusing, especially for people in the building."
Although unclear how Sony plans to end their contract with Dr. Luke, the end seems near.
"Somebody has been convicted via Twitter," a source said. "No court has convicted this person, so there may not be any legal basis to terminate an agreement. It would have to be mutual."
But following reports of Sony's potential drop, a legal rep of Dr. Luke claimed it was all false.
"This is not true. Luke has an excellent relationship with Sony. His representatives are in regular contact with executives at the highest levels at Sony and this has never come up."
But new today, March 11, an account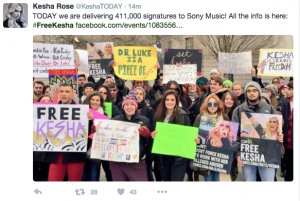 made by fans in support of Kesha announced that they will be delivering 411,00o petition signatures to Sony protesting her release.