Kesha's Court Battle
Hang on for a minute...we're trying to find some more stories you might like.
SAVANAH HOWARD
Coming to a teary end, the judge in Kesha's court battle denied her request to break from her six-album recording contract with Lukasz "Dr. Luke" Gottwald last Friday, Feb. 19.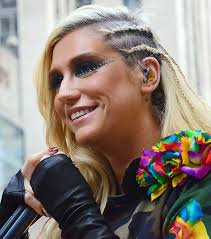 Kesha's court case was her attempt to get out of a contract with Kemosabe Records, a part of Sony, to avoid working with her former producer Dr. Luke who she claims sexually abused her. The lawsuit began back in Oct. 2014.
Her allegations against Dr. Luke include alleged rape and threats made to her family's physical safety and to destroy her career.
After the news was released several stars voiced their support for Kesha. These stars included Lady Gaga who tweeted, "There are people all over the world who love you @KeshaRose. And I can truly say I am in awe of your bravery." Demi Lovato also tweeted at Kesha using the hashtag "FreeKesha." The hashtag is a part of a growing fan campaign for her freedom.

Singer Taylor Swift allegedly donated $250,000 to help with Kesha's legal fees.
Kelly Clarkson has a personal connection with Kesha's battle. Her song "Since U Been Gone" released in 20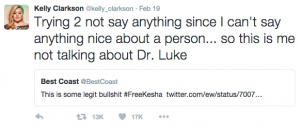 04 was written by Dr. Luke. On Twitter, Clarkson said, "Trying 2 not say anything since I can't say anything nice about a person… so this is me not talking about Dr. Luke."
While Kesha is heavily supported, Dr. Luke still has a following of his own.
Dr. Luke and his lawyer, Christine Lepera, are both claiming that the "allegations against him are outright lies." They are also claiming that Kesha's aim is financial gain and the destruction of Dr. Luke's reputation. Lepera adds that "the Court also noted multiple times that her vague abuse allegations were devoid of factual detail, and that there was no evidence, whether from doctors or anyone else, to support them."
Since the court hearing Friday, there has been no information released on future steps to be taken by either side.