Building a New Foundation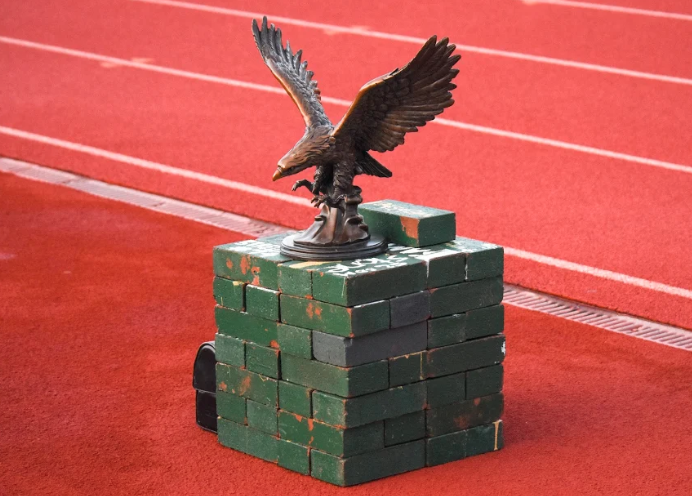 //HANNAH CORBET-THIELE//
The football teams have a tradition and they do it every game and practice regardless of the situation. At the beginning of their Iron Eagles Weight Training Camp, each player received a brick that they could customize the top. However, the rest of the brick needed to be green. The players would bring it to every practice and game from then on.
"It is symbolic of them carrying their share of the load," varsity head coach Ric Cash said. "When we get to our games and practices they stack them together and that individuality gets buried underneath that whole team."
Cash has been doing this for 16 years when he first started coaching at Vista.
"That brick wall [by the the athletic hall entrance door] represents the first 72 players of the program, so they laid the foundation of the program." Cash said.
At the end of every season the players will add their bricks to the wall and leave their legacy as an individual and as a team.
"I like how it is something we do as a team, it's something that we always keep with us and it keeps us together," senior Bryce Williams said. "It's part of everyday life for me now so I feel uncomfortable without it."
The extra few pounds on their back is worth it when they know they are representing the team. The players love the bricks and what they stand for it helps push them to carry their weight and do all they can to make the team stronger.
"I think this year is different because this season we know the load is going to have to be shared more than it was last year," Campbell Lancaster, 12 said. "People are embracing the meaning behind the bricks more than ever."
This tradition is something Lancaster did during his freshman year and the meaning has never changed but the bricks have become a bigger part of the team year by year. For Ryan Le, 12 however it isn't just a reminder of carrying your own weight it is the football tradition that Vista started for his older brothers and himself.
"Personally, the bricks have a lot of meaning to me because I've had two older brothers who have partaken in this tradition and they have a deeper meaning to me than just an inanimate object," Le said.
The tradition is something that has been apart of the team for a while now and as it continues to evolve the players grow a special appreciation for the bricks.
"The tradition hasn't changed much over the years," Le said . "I don't think it will over the next few years either."