Speaking Out Through Art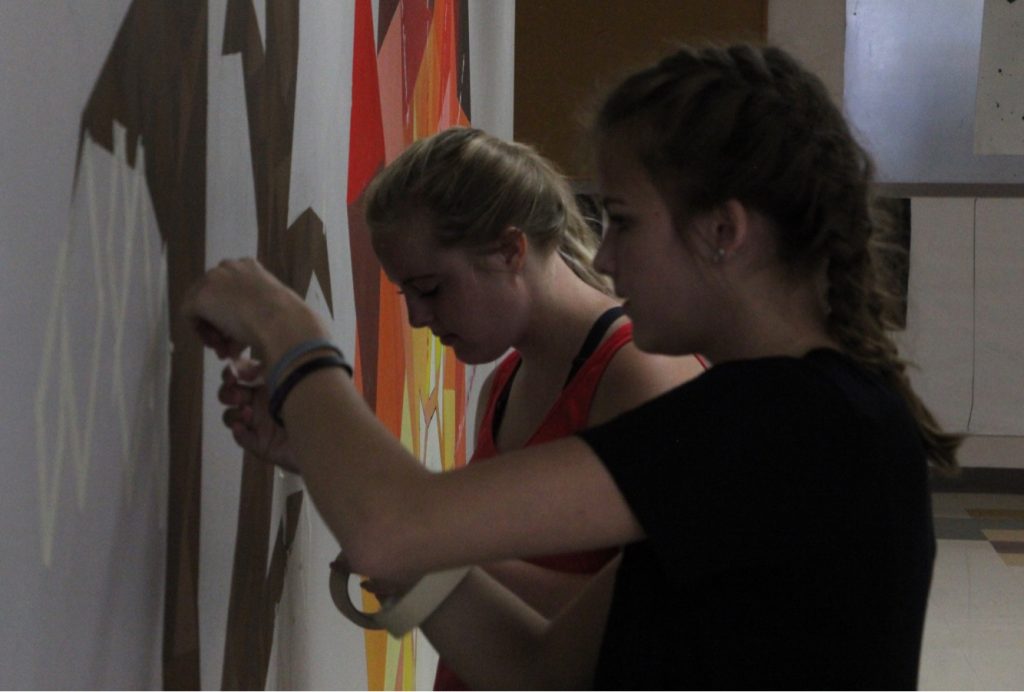 CAITLIN ENGLISH
August 20, 2017
While many students enjoyed their summer vacations outside of school, a few decided to spend their vacation giving back to the building they spend so much time in. Over the past few years, students passionate about art have decorated the school with murals promoting positive messages, and two juniors continued the work by contributing their own addition to the walls of Mountain Vista in the weeks before school began.
The newest addition to the rapidly-growing collection was painted by juniors Natalie Horn and Ashley Stem in the upper 300's hallway. The work is entitled "Words Have Power" and is intended to speak out against bullying.
"We want people to realize that no matter what they say it does leave an impact on people," Horn said. "We feel like everyone can use a little light in their life."
According to Stem, finding the inspiration was one of the easier parts of constructing the mural, as the inspiration was located a few feet away on the same wall. The mural that lies to the right of Horn and Stem's creation was left by a previous art student, who Horn worked closely with before she graduated from the school.
"The [artist] who designed the sunset said she had a tree in her original idea so I thought it would be cool to incorporate that and make it my own and add the tree and each of the branches," Horn said.
The project started off as an individual effort for Horn, but soon grew into a group as the process continued.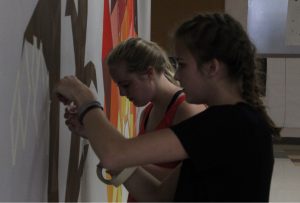 "It started as a solo project when Ms. Kahn asked Natalie to design the mural," Stem said. "She knew she couldn't do it alone so she asked me to help."
Before starting a project this big, the artist must take into account how much time, space and materials they will need to finish the product successfully.
"First we had to design [the mural] and then measure every line," Stem said. "Taping was the tedious part of the process, and painting was the easy part. It was relieving to peel the tape off and see the outcome for the first time."
Horn and Stem hope that the mural they poured effort into will inspire future classes of students to be kind to each other.
"[We think the mural speaks against bullying] because words do hurt and you have to be careful what you say," Stem said. "Think before you speak."