A Deep Dive Into Literature
From the Romantic period to the early 21st century, this year's seniors dive deep into the world of poetry to discover secrets about human nature.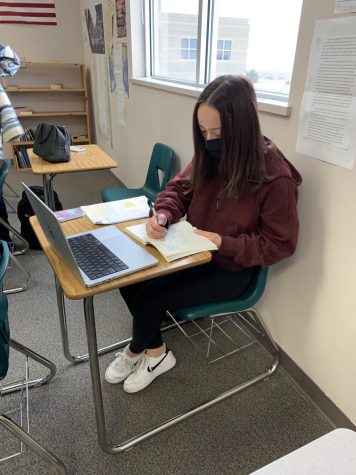 The world of poetry is often a mysterious one, filled with elusive metaphors, similes and a maze of symbolism and figurative language that can confuse even the most stalwart of readers. For the senior classes of AP Literature and Composition, they've been sent off the deep end to read and analyze poetry to unlock secrets about human nature and society. It is their culminating senior project that will send them off towards graduation and college. 
Reading, researching and analyzing a poet's work is not everyone's cup of tea. For teachers Josh Brandt and Staci Stech's senior AP Literature and Composition classes, they have the opportunity to delve deeper into a single poet and write an essay about their work and themes. Among these students is John Poturalski, 12, who is currently researching May Swenson. 
"Essentially, we research a poet for three months and then try to understand the themes they're trying to convey to us," Poturalski said. "Then we write a paper on that using evidence from three or four of twenty poems [that we read]."
Aside from hyperfocusing on a single poet, the AP Literature classes also dive deep into many different works of fiction. The students continue to expand their understanding of human nature and society through these authors' works. Some students, like Jack Strassner, 12, made the jump from English III to the AP class, and have had an interesting experience. 
"[My favorite part of AP Literature] is getting to dive into different pieces of literature and find out the deeper meanings and explore different techniques and ideas that more advanced writers use," Strassner said. "[Mark Twain's] poems seem intriguing and he does a good job with symbolism and incorporating nature."
While such an extensive project could make any student quiver under its weight, the teachers find it to be a valuable last experience for seniors. It is one last hurrah before graduation, and Stech believes it is important to give students this last opportunity to delve deeper into literature and poetry if they aren't going into it in college. 
"I think that the poetry project is an important thing that we do because for most students, this is the last time that they're reading poetry," Stech said. "I hope that coming out of the project, people have a poet they feel connected with."