Coachella, South by South West, and Burning Man are all among the largest music festivals, which people flock from around the globe to attend. The Fyre Festival hoped to add itself to this prestigious list.
Hosted in the Bahamas, Fyre Festival was set to be a luxury festival, with tickets ranging from $1,000 to $12,000, and some packages soaring up to $250,000. The event was promoted by Artist Ja Rule and entrepreneur Billy McFarland. Ticketholders were promised their own private island for a week, packed with artists, performers, and fun.
Ja Rule and MCFarland landed on an island in the Bahamas after their plane was running low on gas.  They immediately fell in love and created the idea of their festival and started to market it.
After a marketing push and the promoters working to sign performers, it became clear Fyre Festival would not be ready in time. The island lacked the infrastructure to put on an event of that size in the short amount of time given.[embedyt] https://www.youtube.com/watch?v=kkovBKfcSJ8[/embedyt]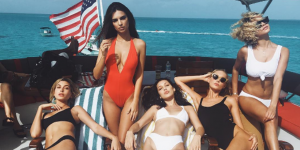 Regardless, the team worked on, pushing more and more for the festival, getting many models and celebrities to promote the event (including Kylie Jenner), and rumors started to fly about potential performers (Blink-182, Disclosure, Migos, Lil Yachty).
Things were not looking good when talent producer Chloe Gordon arrived on the island a month and a half before the event. She stated that the beaches were covered in flies, the waters were crowded with sharks, there was little construction, and no vendors, stages, or transportation.
Just a day before the festival, Blink-182 pulled out of the festival, stating that they were concerned Fyre Festival couldn't put a production on that met their standards.
As guests arrived, they were met with disaster relief shelters, unfinished construction, and no organization. Many attendees attempted to leave after arriving, but were met only with closed airports. Just the night before, a storm had ripped through the island, taking down the few prepared shelters.
A social media firestorm ensued, with guests posting pictures of the poor conditions and their disappointments. The promised mega-event was not even close to ready, and many felt they had  been scammed. Here are a few attendee's posting their grievances on social media.
So Fyre Fest is a complete disaster. Mass chaos. No organization. No one knows where to go. There are no villas, just a disaster tent city. pic.twitter.com/1lSWtnk7cA

— William N. Finley IV (@WNFIV) April 27, 2017
@FyreFraud Here's the dinner they fed us tonight. Literally slices of bread, cheese, and salad with no dressing. #fyrefraud #fyrefestival #dumpsterfyre pic.twitter.com/NmNXakSFlq

— Trevor DeHaas (@trev4president) April 28, 2017
Expectation v. Reality for the biggest scamming festival in the 21st Century #FyreFestival@WNFIV @FyreFraud pic.twitter.com/75SZb6iDdm

— Alex Sanchez (@AXELSCYTHE) April 28, 2017
In a statement issued on the Fyre Festival website, they stated,
"As amazing as the islands are, the infrastructure for a festival of this magnitude needed to be built from the ground up. So, we decided to literally attempt to build a city. We set up water and waste management, brought an ambulance from New York, and chartered 737 planes to shuttle our guests via 12 flights a day from Miami. We thought we were ready, but then everyone arrived.
The team was overwhelmed. The airport was jam packed. The buses couldn't handle the load. And the wind from rough weather took down half of the tents on the morning our guests were scheduled to arrive. This is an unacceptable guest experience and the Fyre team takes full responsibility for the issues that occurred."
McFarland and Ja Rule are now being hit with a $100 million lawsuit citing the fraudulent state of the festival, poor conditions, and general lack of overall festival.
The Fyre Festival team promised full refunds and free VIP passes for next year's redo. Yes, they plan to have Fyre Festival again.
Sources: NPR, Billboard