Trick or Treat Street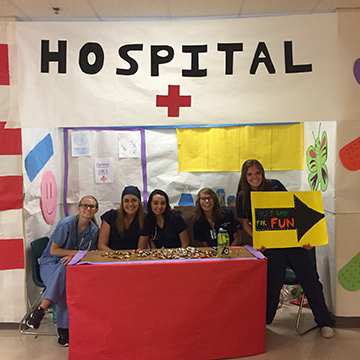 Once a year, Mountain Vista puts on an annual event for kids in our community to enjoy before Halloween arrives in the month of October. Students dress up and decorate the hallways in different themes all around the school. This year, the themes included Under the Sea, Pokémon Go, and Barnyard Animals.
After visitors have arrived at the school, you are greeted towards the door with welcoming and colorful chalk art around the flagpole. After that, you enter through the front doors where there is a face painting station that some of Mountain Vista's art students run. Next, you walk down the main hallway and go through the 200's, then the 400's, and lastly the 500's. This year, an estimated 5,000 people came to the school for Trick or Treat Street; As the years go on, numbers are increasing.
Multiple clubs have taken part in setting up the school and decorating. This includes, FCCLA, Interact Club, Key Club, Student Leadership, Band, Art Club, and some classes. All of these students put in an estimated 15 hours in decorating the school. Butcher paper was stapled to our walls, desks were set up in each pod, and students dressed up in a variety of costumes to hand out candy to kids.
The school has done nothing short of giving the kids in our community the joy of getting candy from a local school. Our school continues to try and keep all these kids in our society content and excited for the popular upcoming holiday.