Wish Week Basketball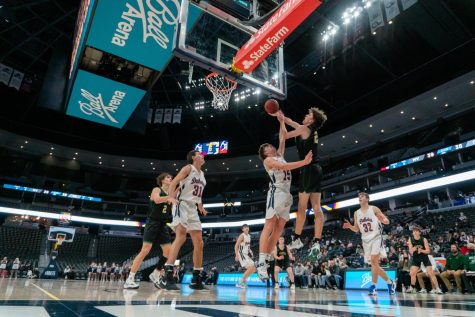 Wish Week. Arguably the largest weeks in all of Mountain Vista basketball's schedule. This year is no different. Facing off against the 11-6 Heritage Eagles on Tue. 8th, Vista is going to look to blow past them before one of the most important games of the season against number 1 ranked and defending champs, the Thunderridge Grizzlies. 
Heritage is carrying an average of 55.4 points per game compared to 75.1 points per game that Vista has heading into the Tuesday Wish Week showdown.  But, Heritage has shown their continued struggles with inner-conference games landing them a record of 1-4 so far this season. Most notably their 45 point loss against Douglas County on Sat. 5th.  Some key points to focus on in terms of Mountain Vista's success for this week:

KEYS TO SUCCESS FOR BOTH WISH WEEK GAMES – VISTA
Bench Players Stepping up
One of the largest changes to this year's roster is the improvement of depth in the roster. Last year, one player led 4 out of the 5 main stat columns, except blocks. That player is Ben Bowen, a current D1 player at the University of Wyoming. Vista has noticeably provided MUCH more depth this year along with many players providing impactful time off the bench. Including most notably, Radek Homer, 11, who has provided 6.5 points per game off the bench and 3.4 assists per game, which is 2nd on the team. Depth is going to be ESSENTIAL against Heritage and Thunderridge. 
Staying out of foul trouble
While Vista only carries an average of 15.2 fouls per game compared to 14.8 for Thunderridge, it is essential for any successful team to keep the opposing team from having frequent visits to the charity stripe [Free throw line]. Having opponents being able to travel into the bonus frequently can be a killer for any team, no matter the level or league. 
Success From Beyond the Arc
Vista's most recent loss against Denver East featured shooting 7 out of 24 shots from beyond the arc. While shooting 29% from the 3 point line is not a horrible number, Vista showed they can be a strong contender. Most recently against Ponderosa, Vista's shooting performance was 11 out of 27 which is 41% from the arc. This is a noticeable improvement and proof Vista does have the skills to punish teams for not defending around the perimeter. 
Defense Wins Championships
Leading the steals per game with 2.3 steals, Brendan Diehl, 11, has been a defensive menace to teams this season. "The most important thing will be keeping our man in front of us. We are going to need to help the side's defense to be better and force the team's ball handlers to be uncomfortable," Diehl said. Thunderridge has put up an average of 69.2 points per game; which is only 6 points below Mountain Vista's shooting average.