Lund & GucciHighWaters Excite Larimer Lounge
//EMERY DAVIS//
"Blackbird don't need a reason to go fly. //Nobody wonders why he gets so high."
With a max capacity of about 75 people, the Larimer Lounge is easily one of the most intimate venues in Denver. On Feb. 23, Larimer Lounge hosted a lowkey concert, brought to Denver by musicians Cory Wells, Guardin, Lund and GucciHighWaters. Only those with a very specific taste in music attended the show, which managed to sell out the venue. Most of the songs were based on very real life experiences, along with the aftermath of said experiences.
As a shorter person at this venue, timeliness is everything. Getting to small venues early is important, as it can determine the outcome of your experience. If you don't get there early enough, your view will be compromised, possibly for the entirety of the show. Of course, not everybody is there for views of artists, but to feel the music with like-minded individuals. Though I had difficulty seeing, the venue's welcoming vibes and performer's talents made up for it.
The artists who performed at the show were all from a very specific side of music. To put it simply: they were from the alternative neighborhood of today's music. The lyrics and vibes of the artists were rather brooding sounding and somewhat angry. Of course, since it was in such a small venue, the energy was very closely shared between attendees. 
A common theme at this specific concert was the subject matter in their songs. Every artist wrote their lyrics straight from their hearts, creating a cohesive bond between bands and audience members. The first act, Cory Wells, is not what you'd expect him to look like. His music is generally pretty standard, raw-voiced punk, which at some climaxes of songs, is met by powerful screaming, guaranteed to shock the audience every time. Yet, the appearance of Wells is similar to that of a stereotypical Oregon-based hipster: a basic beanie, a large acoustic guitar, a fine mustache and a loose comfort shirt paired with a nice pair of jeans. Even if his appearance didn't match his music's sound, the words flowed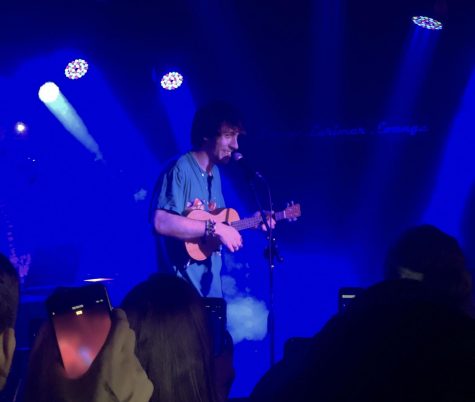 beautifully with his style of music.
The last time hip-hop artist Guardin stopped in Denver for a show was Feb. 26, 2019, as an opening act for the Gnash. As someone who has seen him the past two times he's played here, he's changed immensely, both mentally and musically. In an interview conducted with him after the first concert, I recall him telling me, "I didn't realize my social anxiety would be a problem. I was really nervous to start the tour. But after we played the first show, I fell in love with touring." 
Seeing him play now, he's grown a copious amount, and can play in front of any group of people. Not only was Guardin a spectacular performer, but was like a friend to his viewers, rather than a celebrity. He
conversed with the audience and even held a small meet and greet after the show, free of cost along with Lund.
Lund, one of the headliners of the show was absolutely the climax of the concert. Not a single soul in the crowd was still while he was on the stage. Lund largely stressed energy and wanted everybody to move. Surely enough, the audience complied and used all of their energy during his set to dance, jump, and scream the words together. 
The most popular song amongst concert attendees was by Lund, especially works from his album "Blackbird." The album, stylized as "BlkBird," was an album Lund built on dedication, which he claimed "saved my life." 
Lund showed a great deal of gratitude towards fans for boosting his unusual music, which is not the norm for the radio. As many could see, Lund is passionate about his work and cares very deeply for those who support him in the music industry.
GucciHighWaters was the final act for the night, who brought a different kind of energy to the stage. His music was more angry than sad, unlike the other artists whose songs seemed full of hurting emotions, channeled into hopeful lyrics. The music of GucciHighWaters seemed much more brooding and somewhat filled with regretful vibes. Though some of his songs were dark and blue, there were of course some bangers he played, which featured other artists who had played earlier that night. Some songs were upbeat and drove the crowd crazy, while others were more of a breather, giving the audience time to focus on the music and connect with GucciHighWaters.
Though tiny venues can be difficult to party in, smaller concerts do have their perks. The benefit of seeing lesser known artists perform is the intimacy and connection felt throughout the room. Everybody there wants the same thing: to enjoy the music they truly love. Meeting artists, no matter how big or small in the industry, is quite a different experience. After they leave the stage, finally everybody realizes that, in the end, they're just a person with valid feelings and emotions.