Order in the Court
Hang on for a minute...we're trying to find some more stories you might like.
On Thursday, December 3rd, sophomore Taryn Glentzer and her classmates in law examined a case in preparation for the Mock Trial regional tournament in February.
"I just find it really fun to look at the different facts of the case and kind of come up with a good viewpoint," Glentzer said.
Basically, the team receives the case after having met for a while and they have a significant amount of time to look at it before competing later in the year.
"We meet in October but we didn't get the case until November 1st," Glentzer said. "Then we review over the case and have a couple of tournaments we compete in."
The first tournament is regionals, where they will face teams from schools in the surrounding area. If they do well in regionals, they are set to compete in state, a compilation of teams from regions around Colorado. Success in state would take the team to nationals, where they would be assigned a new case to review and a chance to be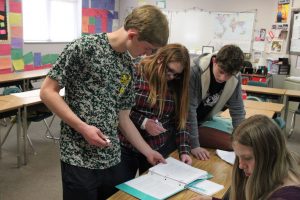 the best mock trial team in the country.
For Glentzer, the most challenging part of Mock Trial is using objections against the opposing side.
"There are some easy [objections] and other that are hard," Glentzer said. "[The hardest part is] remembering those and knowing when to place them."
In any given trial, the prosecution and the defense are given the chance to make opening statements, during which they present an outline of what they hope to prove. Next, the prosecution presents its case by questioning the witnesses, giving the defense a time to "cross-examine" the same witnesses. The roles are then reversed, allowing the defense to state their main case. It is during these times that objections are used in trial.
"It is basically where you are listening to the other person speaking who might be crossing your direct," Glentzer said. "If something doesn't resonate with you, like if they aren't even talking about the case, then you can use a relevance objection."
Trial can be very tedious, and the team can sometimes miss details that may be important to the case.
"The best part [of Mock Trial] is getting together and finding the cool facts that we may have overlooked before," Glentzer said.
This year, Glentzer is also looking forward to having the chance to act as two different people throughout the course of the trial.
"This year I am excited to be double rolling," Glentzer said. "That means I am going to be playing both an attorney and a witness."
Objections and verdicts set aside, Glentzer loves having the chance to work with the other classmates on her Mock Trial team.
"My favorite part is just hanging out with cool people who love this just as much as I do," she said.