Lettuce Wins Big
Temple Club hosts an eating competition with all proceeds going to Wish Week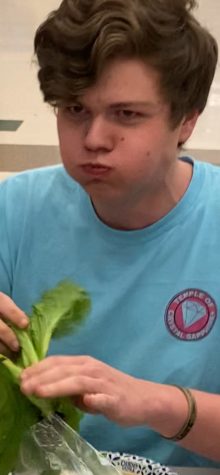 Competitive lettuce eating isn't easy. Members of Temple Club must be determined, dedicated and, most of all, hungry to have a hope in winning the Mountain Vista Temple Club Lettuce Competition. 
"One of Temple Club's philosophies is to be inclusive to everyone's niche interests and give them a platform to organize them,"  Pierce Angeloff, 12, said. "A common interest among Temple members and officers was hosting this competition as an extension of the official college Lettuce Clubs around the nation."
When the leaders of Temple first started the club, many doubted them. However, Temple has grown into a popular and enriching community of students. Members participate in an array of activities ranging from t-shirt design, meme appreciation, and much more.
"We were trying to leave a legacy on the school we love so much," Temple officer Seamas Porter, 12, said. "We wanted to give back to the school and leave our mark in the best way that we know how." 
In addition to creating an open environment for students to be themselves in, Temple Club makes an effort to give back.
"One of Temple Club's biggest goals building up to Wish Week was to make a large donation ourselves," Angeloff said. "We placed a $5 entrance fee on the competition for anyone without a Temple shirt with all proceeds going into our donation for Wish Week."
By the end of the competition, when the lettuce had settled, one Temple member came out victorious. Scott Pozder, 12, breezed through preliminaries and in the final round ate an enormous amount of lettuce, earning himself the title of Temple Lettuce Eating Champion.
"I really had to get into the right mindset to be able to get all the lettuce down my gullet," Pozder said. "[When I won the competition], there were lots of feelings running through my head. To name a few: joy, pride, and true American grit."