Meet Guardin
//EMERY DAVIS//
As a student of media, I have been presented with some opportunities that could be considered once in a lifetime. Normally I am known for writing concert reviews, however the most recent concert I went to presented me with something I never thought I'd be able to do as a teenager. On Jan. 30, I landed an interview with an artist whose music I love and had been listening to for a long time. After the Gnash concert I attended, I waited outside the Bluebird Theatre to interview the up and coming artist Guardin, also known as Nicholas Kerr.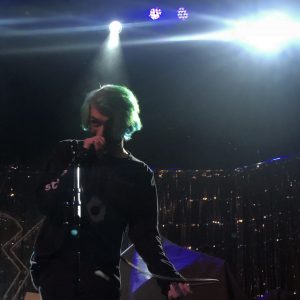 The 22 year-old from Hornell, NY has been producing his own music for about eight years now. From making trap beats, to lo-fi hip hop beats, he has a talent of being able to mix a wide range of genres. "From there I realized I have an okay voice so two or three years ago I started implementing vocals into my songs." Guardin said. Today he still mixes and creates his own beats for his songs.
Not only was I curious about what's going on with his current career, but I wanted to know where he started and where his inspiration and lyrics come from. "I used to put my music on Soundcloud threads on [the website] 4chan." Guardin said. "Probably the worst spot to promote your music but it actually helped me quite a bit. I gained my first maybe 1500 followers from just doing that." He went further into detail to explain how the website worked to help him gain a following.
"You would post your link and tell people what type of music it was then check everybody else's stuff out so they would check yours out. That was when I was just making beats." Guardin said. "After that I started posting my content on YouTube and other channels would reach out to me and ask to post my stuff as well."
From posting music links on 4chan to releasing songs on Apple Music and touring with Gnash, Guardin is steadily making his way up in the music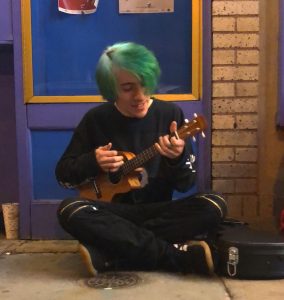 industry. "It's definitely been a journey." he said. "On a whim, I was like yeah of course I'll do this tour, for sure." As the first show in Los Angeles got closer and closer, Guardin began getting anxious. "I didn't realize my social anxiety would be a problem. I was really nervous to start the tour. But after we played the first show, I fell in love with touring." he said. He was meant to be on stage.
Making music doesn't come easily to everyone though, finding inspiration and motivation to create content is so important. For Guardin, his inspirations are hip-hop artists Blackbear and now deceased XXXTentacion. When I asked him what he genre he considers his own music to be, he hesitated for a second to think. "I guess I'd say alternative singer songwriter." he said. "I'm trying to branch out of the whole emo thing."
When you listen to his music at first, you may pick up on the consistent theme of young adult and teen struggles. "I feel like everybody can relate to at least one or two tracks." He said. I think that Guardin really hopes to impact lives and help people in whatever way he can. "I want people to walk away from my shows and think 'Damn if that blue, green hair dude can go up there and [perform] like that, then I can do it too.'" he said. "I just want to influence people to be the best that they could be."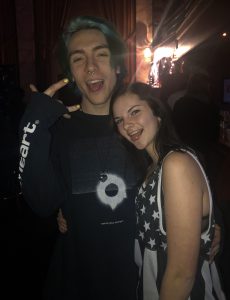 While interviewing him with questions I had written before the show, one popped up in my mind that I just had to ask. I could tell he really cares about people and their struggles so I asked him, "Do you have a message for today's youth that are struggling to get by in life?" His response to my question proved he cares.
"I think it's okay to be sad, as long as it doesn't take you over. There's a lot of ways to go about coping with it and I feel like a lot of people don't know how to cope with it. One of those ways is obviously reaching out to family and friends or people who are going through the same things." he said. "I want people to know that they can reach out to me, I've been there. My fanbase is like a small community of people that just know how to cope with things. It's cool to have a little family of my own. I feel like it's a lot easier to deal with problems together and not alone."
After talking to him and getting to know him, I feel he is probably the most genuine person I have ever been blessed to meet. He really does care about his fans, not the fame or money. He understands the struggles that people can face when dealing with heartbreak and depression and he wants to find ways to help anybody he can.
"But I heard it gets easier, and the leaves fall but they don't hurt."