OPINION: Super Bowl LII Outcome
Hang on for a minute...we're trying to find some more stories you might like.
This Sunday night at 4:30, Super Bowl LII will take place in Minnesota between the New England Patriots and the Philadelphia Eagles. The last time these two teams faced was in Super Bowl XXXIX in 2005. The Eagles, coached under current Kansas City Chiefs head coach Andy Reid, lost to the Patriots 24-21, which was coached by the current Patriots head coach, Bill Belichick. The game was a hard fought game by both teams with the greatest point differential being 10 points in the 4th quarter.
Keeping that past game in mind, I believe that the 2018 Eagles still have a chance at beating the forever dominant Patriots this year. The Eagles lost their young, star quarterback, Carson Wentz with a torn ACL in week 14 which puts them at a high un-advantage. Their current quarterback, Nick Foles has been playing like an all-star in the playoffs with an average QB rating of 120.75. To put that in perspective Tom Brady, MVP candidate, is averaging at a 105.45 quarterback rating. Another advantage the Eagles have that is most likely allowing Nick Foles to play at such a high level is the "underdog" motivation. The Eagles were deemed the underdogs for the playoffs, meaning they have the lowest chance to win or even make it to the Super Bowl. However, The Eagles have built off that criticism to create an insane motivation to play and win games. Even fans have caught on to the "underdog" motivation and have started to wear dog masks to games.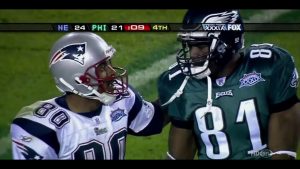 Now you might be asking, "The Patriots are hot and have one of the best players to ever play the game on their side. How can they possibly lose?" What most fail to realize is that the Patriots have a bunch of disadvantages keeping them from a Super Bowl LII win. First, Tom Brady suffered an injury (the team has not told the press how he received the injury) before the AFC Championship game. Brady cut his throwing hand and needed a couple of stitches. If you've ever tried to throw a football with stitches in your hand you can agree it's hard and painful. Brady wore a support on his hand during the AFC Championship game and still came out with a close win against the Jacksonville Jaguars. 
"It's getting better," Brady said. "It's not quite where I want it to be." Brady had a passing completion rate of 68.42%, which isn't terrible, but isn't living up to Brady's typical standards. Brady is still suffering from the injury and currently is still taped up at practice as of Thursday, Feb. 1. With an injured Brady, the Patriots are going to look to tackle the running game with Dion Lewis as the lead back. Dion Lewis has only had 26 rushing attempts during the postseason which is a very low number. By these numbers, we can ensure the running game won't work and the passing game will have to be their game plan, which won't be as dominant as usual because of Brady's injury.
To conclude, as a Seattle Seahawks fan, I am rooting for the Eagles to beat the Patriots in Super Bowl LII. After looking at stats and just overall motivation, I believe the score is going to be 24-14 and the Eagles will be on top. Anyone that isn't a fan of the Patriots loves watching the Patriots lose, including me. You can see me on Super Bowl Sunday wearing a dog mask and cheering for the "underdogs," the Eagles.