Cindy Galligan's Last Day at Vista
GABE BARNARD
November 18, 2016
Hang on for a minute...we're trying to find some more stories you might like.
Four-and-a-half years ago, Cindy Galligan started working as a secretary for the school counseling department. Stationed at a cubicle in one of the hallways of the counseling office, Galligan's responsibilities included giving tours to prospective students, scheduling college visits and maintaining scholarships for students.
"I do a lot of things that nobody else wants to do," Galligan said. "That is a part that I love about my day because everyday is different."
Galligan gives tours for 70 to 75 families a year and organizes over 100 college visits to the school. However, the best part about her job isn't the variety of tasks she completes every day, it is the students that she works with.
"By far and away I love the kids," Galligan said. "They are my favorite people just because I have known so many of them since they were in kindergarten because I actually worked at Bear Canyon [Elementary School] first and then came to Vista. It is so much fun se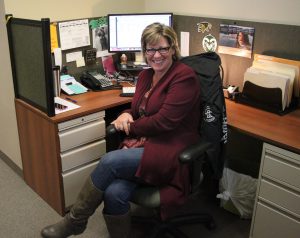 eing everybody grow up and where they are going to college."
Today is Galligan's last day in her position. She will be moving on to work in sales, which is where she worked before being employed at Bear Canyon and Mountain Vista. Galligan will be working for Kuhl Clothing, a company that sells and distributes mountain sportswear as well as Canopy Hammocks and YETI coolers.
Galligan's daughters, Libby, Mary, and junior Janey Galligan will all be in college in 18 months, so Galligan is moving to the sales world in order to be able to better support her daughters through their college education.
After working as a counseling secretary, Galligan has gained an appreciation for the people that have taught her daughters and work with her at the school. She is also going to remember the time she shared with her coworkers at Mountain Vista.
"I am definitely going to miss the people that I work with because we are good friends," Galligan said. "I work in a hallway so I hear stuff all day long and I am definitely going to miss the buzz around here, it's a great group of people."
The counselors she worked with are also going to miss her presence in the office because of the impact Galligan made on them with the attitude she brought to work everyday.
"I am going to miss her sense of humor," Counselor Robyn Mott said. "She is so fun to work with and she is so entertaining and she makes my day better everyday."