PHOTOS: Girls Soccer vs. Arapahoe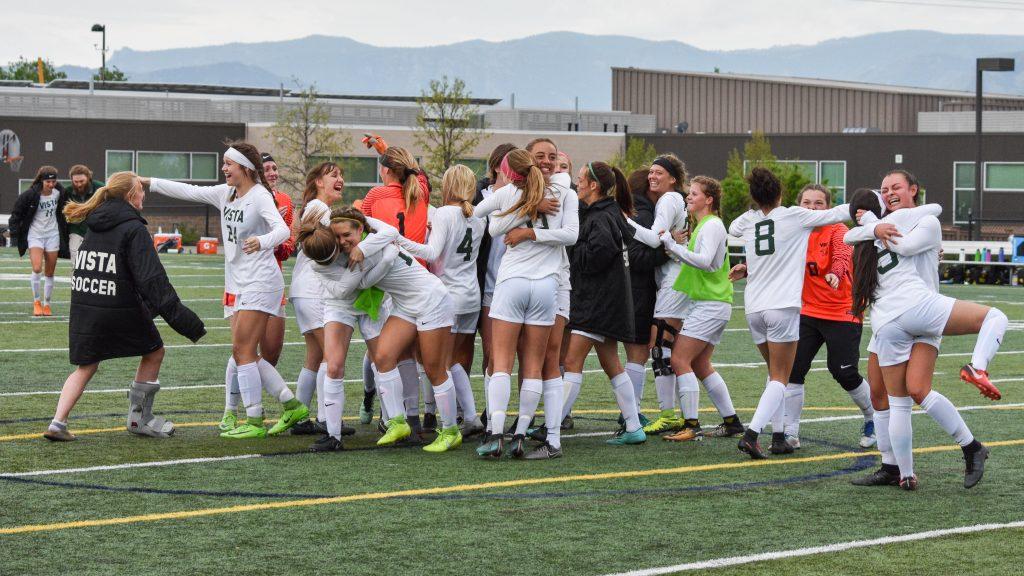 The girls varsity soccer team hosted Arapahoe High School in the second round of the CHSAA 5A State Championship Tournament on Friday, May 11. It was the first time the two teams have met since last year's state championship game at Dick's Sporting Goods Park.
The two teams played keep away for the majority of the game and remained scoreless at the end of regulation, forcing overtime.
In extra time, neither team could come up with a golden goal to win the game. Both goal keepers were unstoppable as they saved and deflected the shots from their opposition, forcing the game into a penalty kick shootout.
Vista shot first in the shootout. Senior Katy Harris drove the ball into the net to put Vista up, 1-0.
On Arapahoe's first attempt, Vista goalkeeper, senior Kylee Love, dove to her right and made a spectacular save to prevent Arapahoe from following up.
Arapahoe responded later to the three goals made by Vista's seniors Maisie Paulson and Jaelyn Hendren, and sophomore Shaye Jones. The Warrior's fifth penalty kick attempt went up and over the cross bar, advancing the Golden Eagles to the Elite Eight round in the state tournament.
"It felt so amazing," Love said. "I said prayers after prayers after prayers in this game. I was just so grateful for my team having my back always."
Vista will play Regis Jesuit in the Elite Eight. The date, time, and location of their next game will be announced at a later date.
Photos by Max Hutto and Michael Place