Saying Goodbye to Wish Week
One hundred fifty-eight thousand and twenty-four dollars was raised for eight-year-old Wish Kid Gabby. To put in perspective, that is $30,243 more than the 2017 Wish Week total, $65,244 more than 2016 and $94,000 more than 2015.
No other school in the United States has ever broken $100,000 raised for Wish Week until Mountain Vista joined the cause. This years total shattered the previous national record of $127,781 for Make-A-Wish set by Vista last year
"The way you guys all came around us and donated, showed that the world is a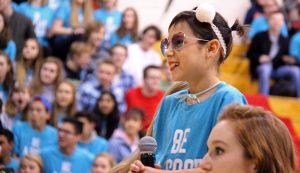 good place and Gabriella gets to show her love to a lot more people because of it," Gabby's mother, Jennifer Kovach, said.
Stacie Winslow, event coordinator at the Make-A-Wish foundation, sees the record-breaking donation as a sign of hope.
"We see kids raising this much money and it gives us hope for the future. We will grant a record number of wishes this year as a chapter which means we have to fund more wishes," Winslow said. "When schools like Vista raise this money to grant this many wishes, it comforts us to know that every eligible child will get the high quality wish they deserve."
But, it isn't all about the fundraising. For Gabby and her family, the experience and the support will change their lives forever.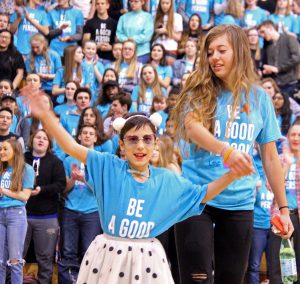 "It just feels like we're not forgotten. It's giving Gabriella a push of motivation and self esteem," Jennifer said. "So for that it's just meant the world to us. You guys blow my mind. Your school, it just shows that love is contagious and I just wish every kid could come here."
Gabby's wish to be famous required more time and attention than it did money and the community did not disappoint. The platform Gabby was given will allow her to hopefully start an organization to raise money for children with cancer in third-world countries.  
"My mom told me that some kids in different countries couldn't get chemo when they had cancer, I just started crying and so I wanted to have an organization," Gabby said.
Having been a part of Wish Week for the last three years, Julian Donaldson from Be A Good Person, echoes the sentiment that it isn't all about the money.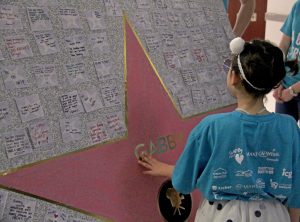 "Anything that is growth for the whole community and the school is really what it's about,"  Donaldson said. "As long as the community is getting the message that's really the main part, and we got to celebrate an eight-year-old who's really dope so it was really cool."
His partner, Darian Simon, reiterated just how lucky they feel to use their brand to spread positivity.
"[Wish Week] gives us an opportunity to do something and give back. Without it, there's really no way to activate what we do. It's cool because it's for a little girl that deserves it," Simon said. "I'd just say we're thankful to be a part of your guys' community because it's like a big family now."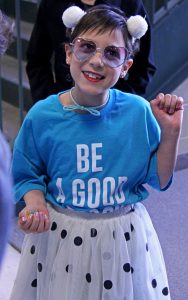 Before leaving the school on the day of the reveal assembly, Gabby and her spunky attitude walked around one last time admiring the decorated halls. Sporting her Be A Good Person shirt, heart-shaped sunglasses and a polka-dot skirt, Gabby didn't slow down. She made sure to point out her glitter-filled shoes to anyone she talked to. The last thing her mother Jennifer said in the interview described just how hopeful Gabby is every single day.
"Everyday, this is how she goes to chemo."