One Last Run
Moving through May, womens soccer is coming to an end quicker than many think. The 2016-17 varsity team has qualified for playoffs as the third seed out of 32 teams in the 5A class. For some, this is their last playoff run with Mountain Vista.
For the class of 2017, the last week of high school has come a week sooner than normal. That may be great news for some, but to the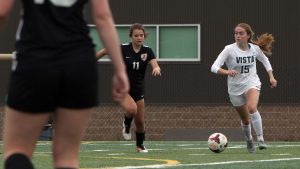 seniors on the Vista soccer team, it means the end to four years of a family. Senior Haley Schueppert has been a big part of that family.
"[We have all] become so close this year and it's going to be hard leaving them," Schueppert said. "For all the memories we have made on the field we have made twice as many off and I could not be more grateful to end my vista career with this group of girls."
Going into her last playoff run with Vista, Schueppert has taken the lead as a co-captain for the varsity team.
"I think she's the best we've had going into playoffs because she cares so much about our team," Jaelyn Hend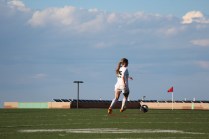 ren said. "[She] wants the best for all of us and that's why we all respect her so much."
Schueppert holds high standards for her team this playoff run.
"Making it to the finals is definitely the first thing on my mind," she said. "I want to leave vista feeling like I did everything I could for myself and for the team even if it doesn't go our way."
Last season, the girls went all the way and sadly lost in the 5A State Final.
"Losing last year was one of the worst feelings," Schueppert said. "We were one goal away from a state title so to be that close last year is only more motivation to make it to state this year except this time come home with a championship."
This being her last chance, Schueppert understands the stakes.
"There's no do over next year if we don't finish the season the way we want to, especially for us seniors," she said. "Everything is on the line."
The team can all agree that Schueppert has left her mark on the Mountain Vista soccer program.
"Haley has been a great leader to all of us," Hendren said. "She's really the one that holds all of us together."
Not only has Schueppert left her mark on Vista, but Vista has left its mark on her.
"It's going to be really hard especially now that it's playoffs because there will be so much more emotion added to everything we do," Schueppert said. "It's not just about the soccer, I know that I have become a better person from playing for this school."
Though ending a huge part of her life, Schueppert will be continuing her soccer career at Clemson University in South Carolina in the fall.