Inside Boeing's Headquarters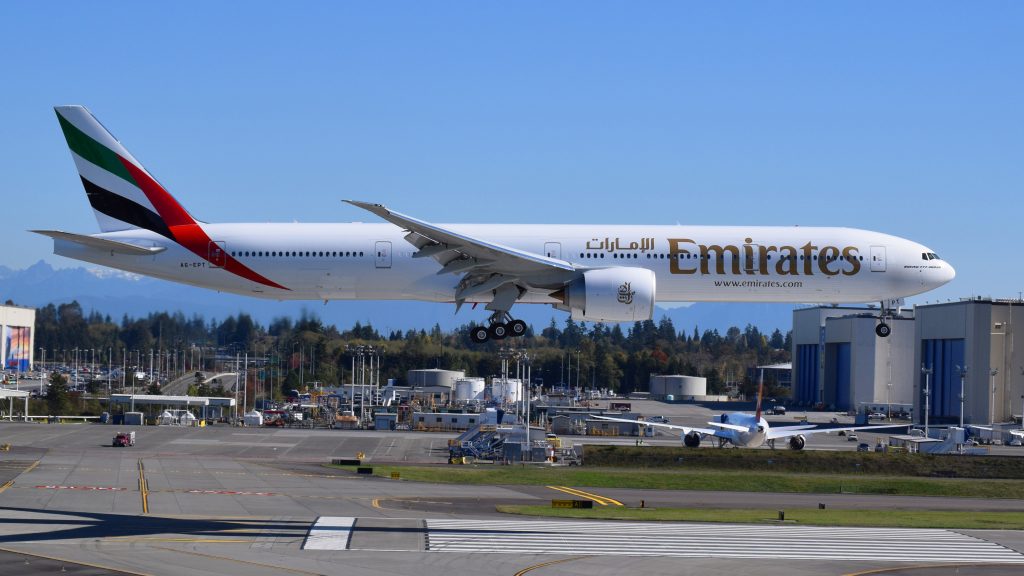 Over Fall Break, my family and I visited the Boeing headquarters in Everett, WA. Boeing is known as one of the best aerospace and aeronautical companies in the world. Its Everett facility is home to the biggest building in the world, based on volume. That building is where Boeing assembles and later tests many of its models of planes, including the 747, 767, 777, and 787.
The only way for someone that is not associated with Boeing to see the operations and production line inside their monstrous building is to take a guided tour of the Everett facility. The tour has very strict policies. Cameras, phones, and all technological devices are specifically not allowed on the tour. Boeing is very serious about its privacy and goes to great lengths to ensure that none of its products, plans or ideas are being shared with other companies in the capitalist world.
Our tour guide shared several interesting facts throughout our 90 minute tour. The entire Disneyland theme park can fit inside the Everett facility's main building, with 12 acres left over for a parking lot. The main facility is also so vast that it could also hold enough football fields to host the entire NFL football season in a four day span. Also, the complex does not have air conditioning inside. Occasionally they will open their huge, retractable doors to cool off their production lines.
This gigantic complex operates as its own mini city. People ride bikes to get from one location in the building to another. This Boeing facility has its own fire department, security service, 19 cafeterias, and an onsite bank. There are 35,000 employees at this single location. Shuttle buses pick up employees from their parking space to take them to their worksite, then drop them back off at the end of the day.
On the tour, we learned that the various parts of the different plane models are built at other Boeing locations or at partners locations around the world. Those pieces are then sent to the Everett facility and are assembled by workers. Boeing is able to assemble and deliver between 40 and 80 planes to their customers each month, depending on demand. There are also several designers that work behind the scenes designing new, quieter and more aerodynamic alternatives to today's planes.
Boeing is in the final stages of testing their new aircraft, called the 737 MAX 8. This aircraft is similar to the planes that are currently in Southwest Airlines' fleet. This new model has a new design for the winglets (the tail like figure at the end of the wing). The new modifications improve the plane's fuel efficiency, increasing it by 1.8 percent .
Next year, Boeing will begin testing its new aircraft called the 777x. Their hope is that it will become the most efficient twin engine aircraft in the world. It is designed to go extreme distances for commercial travel connecting passengers from destinations like New York to Dubai and Seattle to Australia. It's cabin design will feature bigger windows compared later versions of the 777. The cockpit will give pilots touchscreen controls that no other aircraft has.
All in all, the tour was amazing. I learned so much and I highly recommend a quick stop in Everett, WA for anyone who enjoys aviation and aeronautics. It does not disappoint.
Photo by: Michael Place