WHEN WE ALL FALL ASLEEP, WHERE DO WE GO: Album Review
Hang on for a minute...we're trying to find some more stories you might like.
//EMERY DAVIS//
Quickly rising artist Billie Eilish was just 16 years old when she released her single "Ocean Eyes". Since then, Eilish's fame and popularity have skyrocketed. Her first studio album Don't Smile At Me was released Aug. 11 of last year and included the hit songs "Ocean Eyes" and "Idontwanabeyouanymore". Don't Smile At Me peaked at number 14 on the Billboard Hot 200. The Billboard Hot 200 ranks albums weekly based on how many albums are bought and how many times the album itself is listened to.
Eilish's latest album WHEN WE ALL FALL ASLEEP, WHERE DO WE GO was released Mar. 29 and according to industry forecasters, could be heading for the #1 spot on the Hot 200. Eilish's new 14-track album consists of both brand new music and songs released prior to the new album.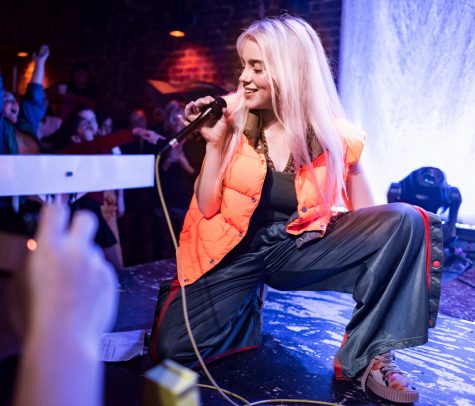 The first track on the album isn't necessarily a song, but it's a 14-second audio clip of her laughing and chatting with unknown people. They're most likely her family and producers, but who could really know besides Eilish herself. The first track is more of a demonstration of Billie's silly and wild personality but is included at the beginning of the music video for the second track of her album.
Track 2 of the album, "Bad Guy," is unlike most of the music you normally hear coming from Billie Eilish, up until the end that is. It's fun, upbeat, and easy to dance to. This song flows very nicely thanks to Eilish's gift for making music according to rhythm and beat. Just when you think the song ends, a second and shorter song begins which sounds more like what we're used to hearing from Billie. It's edgy, dark, and somewhat threatening. The ending of "Bad Guy," may leave you with chills and in shock.
The album has so many different feels to it, which is fantastic in the sense that there's something for everyone. No wonder Eilish's music has become so popular. My personal favorite song from WHEN WE ALL FALL ASLEEP, WHERE DO WE GO is probably "listen before i go". Although the words are tragic and the piano adds a melancholy tone to the song, I think the piece is a great example of Eilish's beautiful and soft voice. The song also proves her talent for writing songs with meaning and a message that hits you straight in the gut. I hope to see this song used in some sort of cinematic masterpiece, or at least a music video of it's own.
Overall, I think fans are pretty pleased with the highly anticipated album they've waited so long for. Eilish's WHEN WE ALL FALL ASLEEP, WHERE DO WE GO tour kicks off in May and already has 38 sold out dates, one of which is the Red Rocks concert in Morrison, CO.