Power of Writing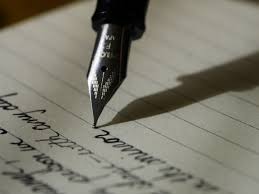 //MANDIRA GOWDA & MOLLY HOUSER//
We see the world as a series of vivid images, sounds, tastes, and touches that inspire a whole range of emotions in our souls. We, as humans, feel these emotions strongly, naturally and we wish to express it to those around us. For some students, writing is not just the dreaded in-class essay; writing has become their lifeblood. For many, writing is a way to express feelings. "Writing is such a great creative outlet because every person's writing is up for interpretation," junior Emma Holt said. "I use writing to convey my emotions because there's no pressure or judgment that comes from a pen and paper, and it's so important to me to let myself be heard without necessarily speaking." Writing is used as a way to convey emotions, and when the words flow right, we let the audience feel them.
There are many different sections of writing: poetry, scripts, speeches, fiction works (short stories, novels, etc.) songs, personal essays, memoirs and so many more. All writers have their own styles, and there are a plethora of ways to be able to convey voice and the overall message. "Descriptive and creative writing is my favorite type of writing, because, as the writer, you're able to incorporate your voice so much more," sophomore Rhea Skariah said. "I don't write as much as I'd like to but I actually sit down and write around 3 or 4 times a week." No matter what sort of writing best fits you, it's all about you and your voice and expression.
In addition to allowing us to express ourselves, writing can help boost confidence and self-esteem. "[I love to write] both free write and style poetry, it's the perfect mixture of technique and deliberation, [and] also allows room for emotional outpour and pure passion," freshman Brayden Tuers said. "[Writing] is almost like therapy but in a more collective, rewarding way." All of us can experience hard times, but writing serves as a way to cope with stress.
Mountain Vista offers various ways to help students write, and platforms to publish their ideas and thoughts. MV Media is a great platform to be able to utilize writing skills, and improve. "[MV Media has] taught me to slow down. I'm a very fast-paced person in general so I need a fast voice and a fast writing style so that I can get all of my thoughts in without forgetting them. I never cared about taking the time to think about simple errors or weird wordings of sentences," senior editor Greyson Koinzan said. "Editing others work helped me learn that it is okay to slow down and that slowing down can actually better my writing." MV Media encourages students to find their voice, tell stories, and explore writing styles.
Mountain Vista also offers both a Penman's Syndicate chapter and a Spoken Word club, both of which, focus on the importance of writing. "[Through Penman's Syndicate] I've learned that some of the best and most meaningful writing can come from the youngest of minds," said senior co-founder and co-President Kristen Tejera. "I not only was able to find my own through [the club,] but I passed the mic on to the world. It is the lack of young voices, I think, which is so sorely missed in global dilemmas."
This year, both clubs will be participating in the Slam Night at Vista. "[In] Creative Writing and Spoken Word my ultimate goal is for students to find their own voice. There's nothing more powerful than them finding their own voice," said English teacher Jason Fisher. "The first half of Slam Night will be the [poetry] slam, and in order to participate in the slam, you need to talk to me. You will have to write two original poems, one that is three minutes long and one that is ninety seconds long. For the performing arts part, will be any written piece or original music." To join, see Fisher in Temp 5 or attend a Spoken Word or Penman's Syndicate meeting every Friday after school.
There are also other opportunities for students to present their work. On Jan. 13,  various members of the Spoken Word club competed at the Minor Disturbance Slam Night at Mercury Cafe. Seven Vista students attended, including Mandira Gowda, who won the competition, along with 25 dollars. "Mercury Cafe hosted a slam poetry night for teens. It's where any teen can come and read their poetry to have their voices heard," said junior Tara Kuyilath. "It was very important [to me] because it provides a place for teenagers to be expressive instead of just put into boxes by the rest of society. The slam night recognized that we have feelings and need to be heard." The Minor Disturbance slam competition is held every second Sunday of the month.
Some people show their emotions through art, others through music, but those who show it through writing utilize the power of universal language to show the past, present, and future. These people can rearrange the same words a thousand different ways to tell a thousand different stories. If there's one thing exhibited through Vista students, it's that the importance of writing exceeds the classroom.