Rock Climbing State Competition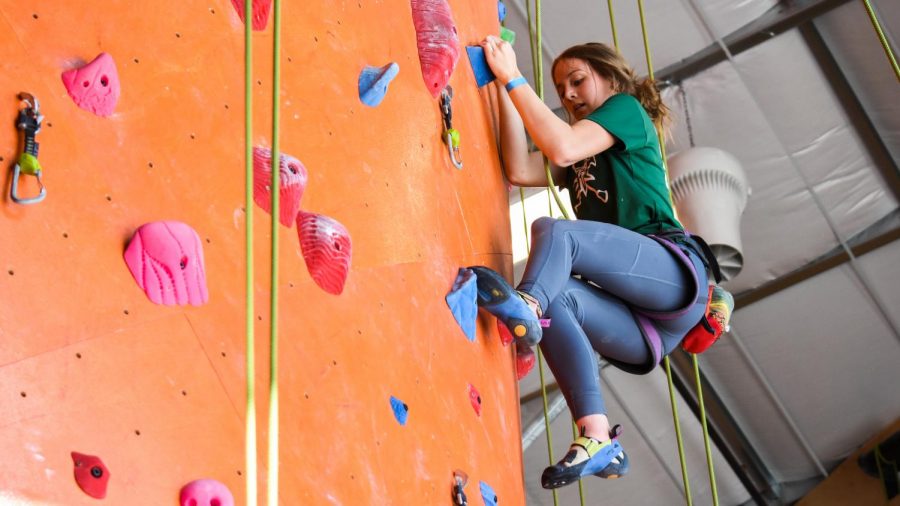 //MOLLY HOUSER//
The Mountain Vista Rock Climbing team attended the State Competition at Ubergrippen Indoor Climbing Crag in Denver on Feb. 23. Both boys and girls varsity and junior varsity teams competed in the final meet of the year.
"[This season so far] has gone really good. Our team has more people on it then it ever has," sophomore Zoe Rawls said. "My favorite part was meeting new friends from different schools and finding out how to better my skills."
The team was scored based on the level of difficulty of each climbing route they completed.
Several students from the junior varsity team placed in the top individual ranks. In the girl's division, sophomore Paige Rawls placed thirteenth with a total score of 1918 and freshman Grace Burgan placed 20th in individual scores with a total score of 1716. In the boy's division, freshman Nyklas McKesson placed 14th in individual scores with a total score of 3408.
"It was a tough competition, to be honest," sophomore Paige Rawls said. "The best part was being there with amazing people that made it fun. I really hope I am able to go next year because it is so much fun going with all of my friends and just having a good time."
In the varsity division, the varsity girls team placed 5th in the tournament with a total score of 9732.
"States was very hard this year," sophomore Zoe said. "The best part was being able to see people from different regions of Colorado compete and I was able to see how they are different from everyone else. Rock Climbing this year has taught me to work harder because there is a lot of good people."
The boy's team did not place in the tournament overall. Joseph Weaver placed 38th in individual ranks with a total score of 4887.
Despite the overall team loss at states, the team had a successful season and look to improve next year.
Photos by Michael Place