New Varsity Football Coach Named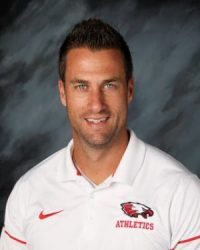 Garrett Looney, a former head football coach from Eaglecrest High School, was named the head coach of the varsity football team today. Athletic Director Jim Flanigan announced Looney as the second head football coach in the history of the school in an email to the community.
"I have been a varsity football coach for 15 years, most recently as the interim head coach at Eaglecrest [High School] where we finished the season 10-2. I was an assistant at Valor [Christian High School] and won back-to-back state championships," said Looney, who is currently a dean of students at the Cherry Creek School District high school in Aurora. "I look forward to building a competitive football team that will compete on and off the field in everything we do every single day."
Flanigan said he was excited to announce the second head football coach in Mountain Vista High School history.
"Thanks to everyone who was involved in the process from players to parents," Flanigan said. "Garrett is excited to come to Mountain Vista and build a championship tradition."
Since the resignation of Coach Ric Cash in early December, the Vista community has been waiting to discover who will succeed the coach of 18 years.
Interviews for the new coach began after the holidays. Flannigan and principal Mike Weaver agreed on a new head coach last week. Students and parents of the football team were heavily engaged in the interview process.
"During the hiring process, me and some other players were part of an interview committee consisting of players, parents, coaches, and administrators in order to give input on what we thought about the candidates," said junior Kyler Lacewell. "My first impression of coach Looney is that he's a very energetic guy who wants to see us succeed and lead us in the right direction after what we had last year."
Cash resigned as head coach Dec. 4, 2018. "It is with heart that I have officially submitted my resignation as Head Coach," Cash said in an email to members of the football community. "After several conversations with those close to me and much more soul-searching, I have come to realize that what I want may not be what is best for the program at this point"
Looney was named interim head coach at Eaglecrest in September after the head coach moved out-of-state. Despite all the complications, Looney was able to lead the Raptors to a successful season.
Looney, who was the offensive coordinator before being named interim head coach, guided the Raptors to a 10-2 record and the quarterfinals of the 5A playoffs this season.
Looney, who also won a state title as the starting quarterback and safety while a student at Columbine High School, is expected to be on the Vista campus Thursday morning.
"I am most excited to come coach at Vista because of the commitment to excellence for all sports, academics, and activities from the staff and community," Looney said. "I look forward to getting to know the kids and to begin the process of getting better every day. I am excited to start building relationships with the players, staff, community, and the entire student body."