OPINION: The Most Hated NFL Players
Hang on for a minute...we're trying to find some more stories you might like.
Do you remember that scene from "Dr. Seuss' 'How the Grinch Stole Christmas'" (2000) when Jim Carrey/the Grinch is standing on top of Mount Crumpit with the Whoville phonebook yelling down the names of the Whos he hates (and "loathes entirely") to Whoville? Have you ever gone through your old yearbook(s) with a friend or family member and pointed out the pictures of the people who you despised in school? That is what I am going to be doing today, only instead of reading names off of Whoville's phonebook or looking at old yearbooks, I am going to reveal who I consider to be the most hated NFL (National Football League) athletes.
Please realize that I will only be featuring active NFL athletes on this list; retired players like Greg Hardy and O.J. Simpson, free agents like Michael Vick and Riley Cooper and players who are not currently playing football like Ray Rice and Johnny Manziel will not appear, even though their actions were disgusting, horrendous and awful.
Let's take a look at who I think the NFL's most hated players are:
#8. Josh Norman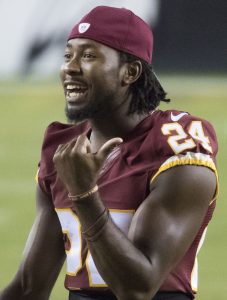 Position: Cornerback (CB)
Drafted: 143rd Pick in the 5th Round of the 2012 Draft by the Carolina Panthers
College: Coastal Carolina
Team(s): Carolina Panthers (2012-2015)
Washington Redskins (2016-present)
Josh Norman is known for being an elite, "shut-down" cornerback and he helped guide the Carolina Panthers to Super Bowl 50, but he engaged in a huge rivalry with New York Giants wide receiver Odell Beckham Jr. (see Beckham's place on this list for the full story) and he loves to trash-talk to the media. Shutting down opposing team's elite wide receivers will also earn him plenty of hate from NFL fans over the years to come.
#7. Jay Cutler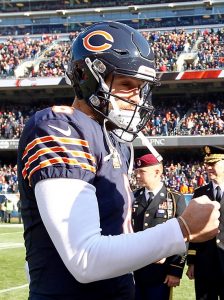 Position: Quarterback (QB)
Drafted: 11th Pick in the 1st Round of the 2006 NFL Draft by the Denver Broncos
College: Vanderbilt
Team(s): Denver Broncos (2006-2008)
Chicago Bears (2009-present)
Jay Cutler is definitely not a popular athlete in Colorado due to his poor performance with the Broncos, but he is even more unpopular in the city he plays in now; Chicago. Bears fans started hating Cutler when he left the 2010 NFC Championship game against the Green Bay Packers with an MCL sprain; since then, fans have viewed Cutler as a careless quitter. Cutler is an interception-throwing machine who has "out-of-it" facial expressions.
#6. Ndamukong Suh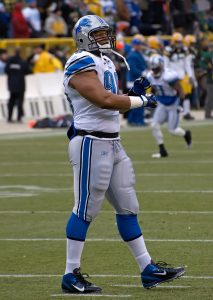 Position: Defensive Tackle (DT)
Drafted: 2nd Pick in the 1st Round of the 2010 NFl Draft by the Detroit Lions
College: Nebraska
Team(s): Detroit Lions (2010-2014)
Miami Dolphins (2015-present)
Ndamukong Suh is one of the best defensive players in the NFL, but he sure loves his cheap shots and dirty hits. He deliberately stepped on Evan Dietrich-Smith after he threw him onto the ground and during a 2011 Thanksgiving matchup with the Houston Texans, he kicked Texans cornerback Matt Schaub in the groin. Suh seems to cherish dirty shots on opponents and he has no remorse whatsoever for his actions.
#5. Cam Newton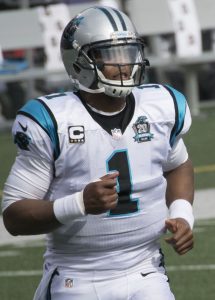 Position: Quarterback (QB)
Drafted: 1st Pick in the 1st Round of the 2011 NFL Draft by the Carolina Panthers
College: Florida, Blinn, Auburn
Team(s): Carolina Panthers (2011-present)
Cam Newton is the most overrated player in the NFL right now. A while back, I heard a sports network call Newton "this generation's John Elway" and I was absolutely appalled at this statement. Elway did not whine about "getting hit too much", he did not start the ridiculously annoying dab trend, he did not excessively and annoyingly celebrate whenever he scored and he did not have a sore-loser attitude when he lost a Super Bowl, so I am not 100 percent sure what the resemblance between these two is.
#4. Jamie Collins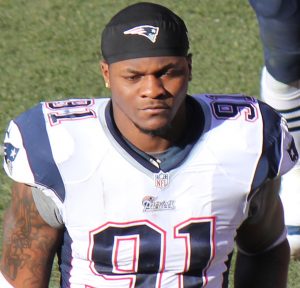 Position: Outside Linebacker (OLB)
Drafted: 52nd Pick in the 1st Round of the 2013 NFL Draft by the New England Patriots
College: Southern Mississippi
Team(s): New England Patriots (2013-2016)
Cleveland Browns (2016-present)
Jamie Collins is the worst nightmare of a head coach, defensive coordinator and linebacker coach. He's lazy, arrogant, thinks he's better than his opponents and teammates, ignores his team's plays and just does whatever he wants on the field. Collins was traded to the Cleveland Browns in exchange for a third round draft pick when he demanded a "Von Miller salary" from the Patriots. This demand and Collins' careless performance on the Patriots defense led Patriots head coach Bill Belichick and the Patriots to send him to the team with the worst record in the NFL.
#3. Odell Beckham Jr.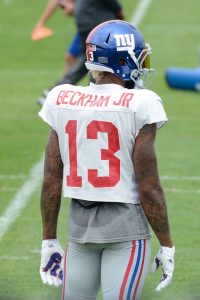 Position: Wide Receiver (WR)
Drafted: 12th Pick in the 1st Round of the 2014 NFL Draft by the New York Giants
College: LSU
Team(s): New York Giants (2014-present)
Odell Beckham Jr. is right up there with Cam Newton with his annoying scoring celebrations, but his whining and attitude make him one of the NFL's most hated players. Beckham's personality was clearly showcased to America in the Giants' Week 15 matchup against Carolina Panthers last year; Beckham got into (and, arguably, started) a heated confrontation with Panthers cornerback Josh Norman that eventually boiled into a series of intense clashes. Beckham was suspended one game for violating the NFL's safety-related playing rules and unsuccessfully attempted to appeal the suspension. Beckham also constantly whines to the media about how referees, teammates and opponents treat/view him, he argues with and trash-talks his teammates on the sidelines and he has even taken his temper tantrums out on practice kicking nets before. Odell Beckham Jr. is the NFL's king of whining, over-celebrating and temper tantrums.
#2. Richie Incognito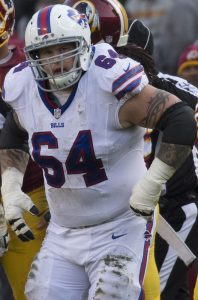 Position: Guard (G)
Drafted: 81st Pick in the 3rd Round of the 2005 NFL Draft by the St. Louis Rams
College: Nebraska
Team(s): St. Louis Rams (2005-2009)
Buffalo Bills (2009)
Miami Dolphins (2010-2013)
Buffalo Bills (2015-present)
I despise Richie Incognito with a fiery passion. He is a stereotypical meathead athlete and a racist bully. Incognito was the subject of major scrutiny when it was revealed that he had been bullying his teammate Jonathan Martin. Incognito sent racist and threatening text messages and voicemails to Martin and humiliated him off the field. One of his voicemails to Martin said, "Hey. What's up, you half-n***er piece of s**t? I saw you on Twitter saying you've been training for ten weeks. I want to c*m in your f***ing mouth. I'm going to slap your real mother across the face. Ha ha. You're still a rookie. I'll kill you."
Martin ended up falling into depression and anxiety because of Incognito's actions and left the Miami Dolphins in 2013. I have a deep amount of sympathy for Martin and a strong hatred for Incognito because I too have been forced to leave a sport due to my teammates bullying me and I loathe people like Incognito. He was suspended for the remainder of the 2013 season for his actions and eventually left the team, but if I was the commissioner of the NFL or the owner of the Dolphins, I would have made sure Incognito never played another down of football for the rest of his life. If you do not hate this man and/or agree with me, you do not have a heart.
#1. Ben Roethlisberger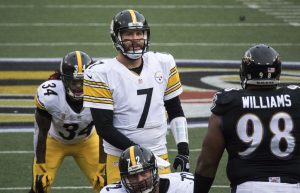 Position: Quarterback (QB)
Drafted: 11th Pick in the 1st Round of the 2004 NFL Draft by the Pittsburgh Steelers
College: Miami (OH)
Team(s): Pittsburgh Steelers (2004-present)
Ben Roethlisberger is a powerhouse quarterback and he will most definitely be inducted into the NFL Hall of Fame when he retires, but his amazing talents as a quarterback do not even remotely wash away his sexual assault cases. A civil suit against Roethlisberger was filed in July of 2009 by the Washoe County District Court for sexually assaulting Andrea McNulty in his hotel room in Lake Tahoe, Nevada. One year later, the Milledgeville police department in Georgia began an investigation on Roethlisberger after he sexually assaulted a college student in the women's restroom of the Capital City nightclub. NFL Commissioner Roger Goodell suspended Roethlisberger for the first six games of the 2010 season without pay due to violating the NFL's personal conduct policy, but no formal charges were ever filed against Roethlisberger for the nightclub incident and the Lake Tahoe suit ended in 2011 when both parties settled. "Big Ben" should be in jail for sexually assaulting these women or at the very least, not be playing football anymore, but instead, he earned a base salary of $17,750,000 this year in addition to the $87,000,000 four-year contract deal he signed that included a $31,000,000 signing bonus plus another $31,000,000 guaranteed to his regular $21,850,000 annual salary.
Be sure to like and share this story on Facebook and Twitter and let VistaNow know which NFL players you can not stand and why.