OPINION: Immigrants versus Slaves
DAVID ROBINSON
March 10, 2017
Hang on for a minute...we're trying to find some more stories you might like.
On Mon., March 6, the Secretary of Housing and Urban Development, former presidential candidate and renowned neurosurgeon Ben Carson referred to slaves as "immigrants" when speaking to department employees.
"That's what America is about; a land of dreams and opportunity," Carson said. "There were other immigrants who came here in the bottom of slave ships, worked even longer, even harder for less. But they too had a dream that one day, their sons, daughters, grandsons, granddaughters, great-grandsons, great-granddaughters, might pursue prosperity and happiness in this land."
Organizations like the NAACP (National Association for the Advancement of Colored People) and the Anne Frank Center for Mutual Respect took to Twitter to condemn Carson's words.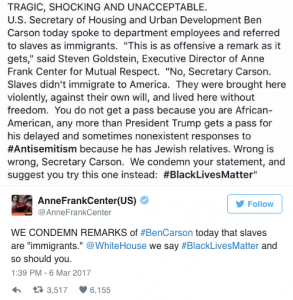 Other public figures like actor Samuel L. Jackson, Bill and Hillary Clinton's daughter Chelsea, director Ava DuVernay and actress and comedian Whoopi Goldberg were also offended by Carson's claims.




It appears as though Carson's schools all skipped the unit on slavery in the United States because any American with common sense would know that African slaves were not immigrants. Africans were forcibly taken from their homes, families and culture to be sold like animals and used like animals. That is not immigration; immigration is, by definition, voluntarily choosing to come to another country. Africans did not choose to come to the United States; they were forced to.
"He didn't say, 'Black man, black woman, come on over and help me build America'. He said, 'N****r, get down in the bottom of that boat and I'm taking you over there to help me build America,'" Denzel Washington said as Malcolm X in Spike Lee's "Malcolm X" (1992).
Many people are calling for Carson to retract this statement and apologize for it, but I can assure anyone who asks this that you are wasting your time. Carson is a part of an administration that apologizes for nothing. Carson was appointed by a man who apologizes for nothing. Carson identifies with a political party that apologizes for nothing. You will receive no apology or retraction from Carson for this statement.
Carson desperately needs to, like Goldberg said, read or watch Alex Haley's "Roots" or read, watch or listen to other stories about slavery, but if he does not want to do those things, he could just look at the photos below and then claim that African slaves were immigrants: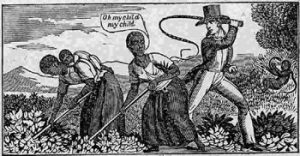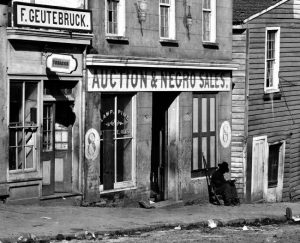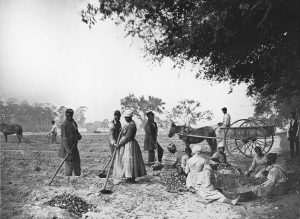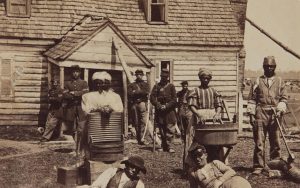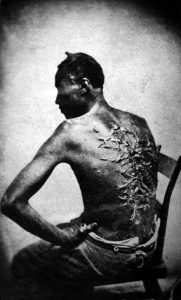 Although his was definitely (and understandably) the most profane reply to Carson, I completely agree with Jackson; Carson is an Uncle Tom and has no business whatsoever representing Americans in the Housing and Urban Development department.
Carson's claim that slaves were immigrants is one of the most offensive statements ever spoken.