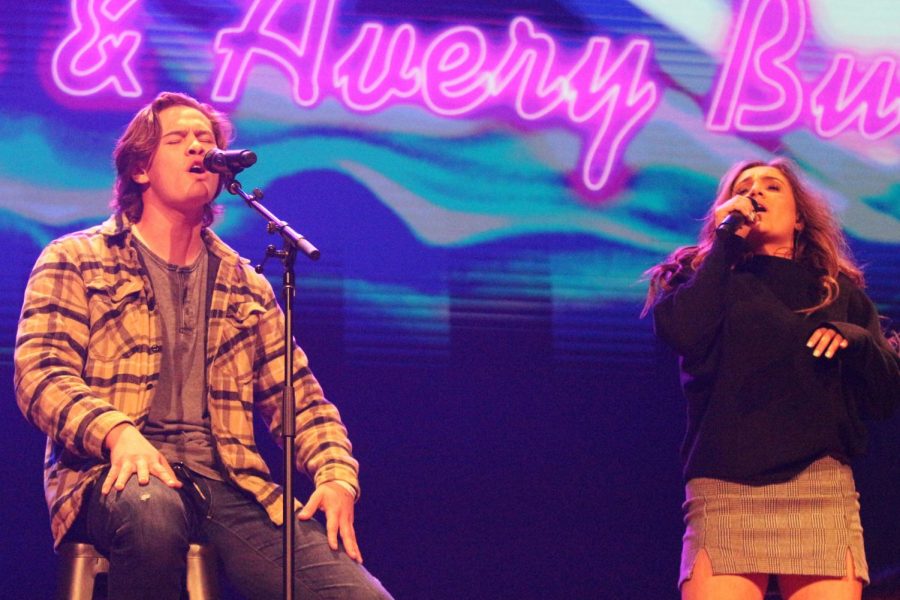 //MADISON PAUL//
Wish Week got extended? Like for real? 
Camera, Lights, Action. Be ready for Act 2
That's right, the weather can't stop anything from happening here at Vista. Snow days and weather delays set the week back, but whether did not win the fight. Monday February 10, 2020 established a day of new tradition. This day shows how much Wish Week can impact a person and how much this school/community can come together. 
The dress-up theme was 'Vista Out' where students and staff were encouraged to continue the spirit of the week by wearing the home colors of green and gold. 
At the Mission Hills Church amidst the continuous snow, Vista Idol acted as a night for students to showcase their talents to other students and our community. After auditions, the final list of performers were seniors Brady Wright, Naomi Barela, Amy Vaillant, Mason Campbell, Benicio Archuleta, Kobby Adu, Emma Buchanan, Samantha Garvey, Evan Gibley, Paige Blosser, Niko Ortega, Sona Kalatardi, Izzy Tuccio, Caden Burch and Blake Hamilton, junior Avery Burch, sophomore Owen Pontius and freshmen Linda Torres and Jenna North. 
The performers all showed off their musical skills, as the night was full of entertainment from songs like "Sweet Caroline" to "The A-Team." Three groups stood out to the Vista Idol judges, English teacher Jason Fisher, math instructor Brian Wood and athletic director Jim Flannigan: Congratulations to third place winner Pontius, second place winner Vaillant and first place winners Caden and Avery Burch. 
Avery Burch placed third place in Vista Idol last year and her goal was to come and take first this year. She said she wanted the win to have significance and meaning, and that is when her sibling came into the picture. 
"It took a month to convince my brother to sing with me," Avery Burch said. "It's my brother's last year, so to get to perform with him meant the absolute world to me." 
When the two came together to pick a song, they wanted to sing something that could represent their relationship. 
"The song 'Rise Up' [by Andra Day] holds so much meaning because throughout our entire lives, we would face obstacles together," Avery Burch said. "It really just explains how anyone can rise up through anything in life." 
When the two heard they won, it was a huge accomplishment for them. 
"The moment they said our names, my body was in shock," Avery Burch said. "The best feeling was getting to share the victory with my best friend." 
Vista Idol was a huge success this year because of all of the support from the audience, teachers and peers around the auditorium. Great job to everyone who performed last night.