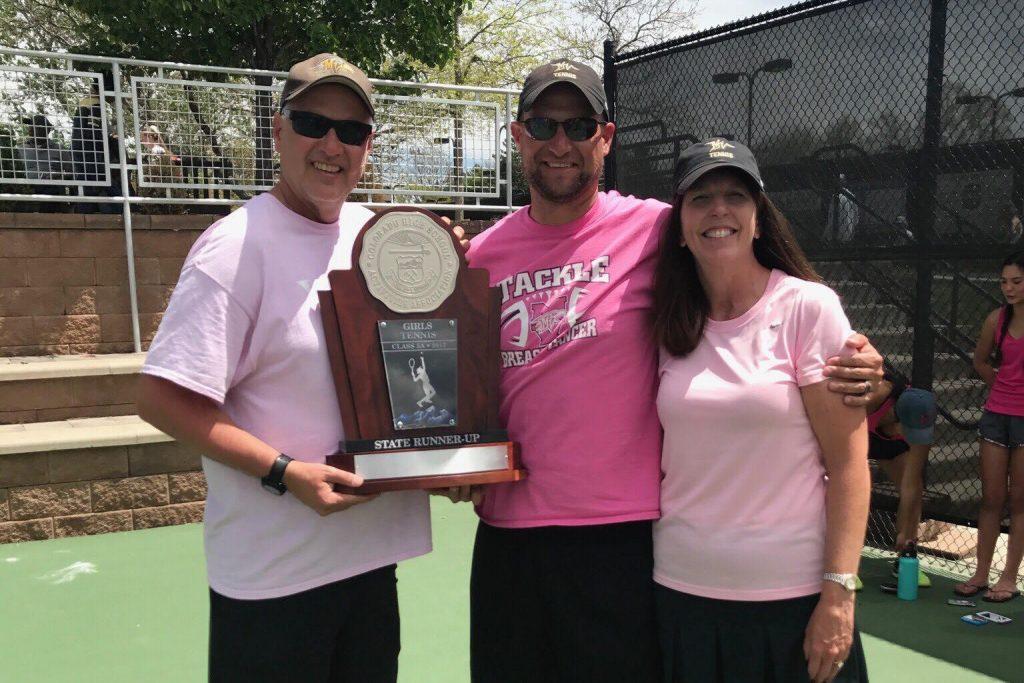 //BRENDAN O'KEEFFE//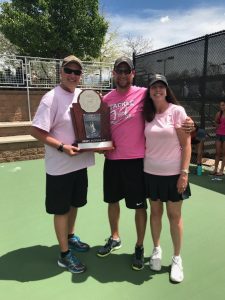 Upon being hired by Mountain Vista back in 2004, Jim Flanigan has cemented himself as an important part of the high school. Now, at the start of the 2018-19 school year, he is stepping into a vital new role. Going from teacher to administrator is always an intriguing changeover and Flanigan's role as athletic director is several years in the making. I had the opportunity to sit down and have a conversation with him on the topic earlier this week.
Q. You've been teaching here at Vista for thirteen years now. Did you have your eyes on this job or one similar to it before recently?
A. I always knew that I wanted to be a teacher and a coach; that was always my focus when I was younger. As you go along your path in life and reach certain points, you say to yourself: "Is there something else I would like to do?" When I was in my late twenties and early thirties, I thought that eventually I would like to become an administrator and ultimately, what I would like to do is be an athletic director because of my love for sports and coaching. So I felt like it was a place where I could impact coaches and kids in a different way. I want to say that I've had my eyes on the prize since I was 23 years old, but I would definitely say that it's something that I grew to want to do.
Q. What does the future hold in regard to your future as the head tennis coach?
A. I don't know the exact answer to that question right now. We have basically put into effect a plan in which we have three different coaches. I've hired an associate head coach and I've also hired another varsity assistant so if I can't be there at practice or a match someone else will be able to lead. We're using that as an experiment and if we feel like there is a disconnect with the kids or that it would be best for us to step away and find someone new to be the coach, we will do that. Right now we are going forward from a place of hiring extra help with the three coaches working together to make decisions. So perhaps it's not something where I am as involved as I was before, but I am still involved and that is the goal.
Q. Describe the transition from teacher to administrator.
A. As a teacher, you get to be around the students all the time. The biggest transition is that while the kids are still in mind, the impact is less direct. You're impacting the teachers, the coaches, the parents, and the kids, but not to the same degree of say: "I have 30 kids in my classroom and I'm impacting those 30 kids for this hour soon". So I'd say the biggest transition is not having that and transitioning into the mindset of impacting more kids through influencing coaches, parents, and teachers.
Q. Why do you view this position as one of service?
A. Well, I believe that the director is here to serve three different groups of people. I'm here to serve the students first and foremost, I'm here to serve the coaches, and I'm here to serve the parents and the community. It's not a position where you should be telling those people what to do, it's a position where you should be serving those people. At the top of that pyramid are the kids and what's in their best interest. I always believe that as a teacher, I was serving my kids by teaching them what they needed to know and I think that that's the same philosophy that you should take in any aspect of life.
Q. What drives you as the Athletic Director?
A. I want to maintain what has already taken place here and continue to make our programs the best in the state of Colorado, along with continuing to give kids positive experiences from those programs.
Q. Who has helped you the most?
A. There's been a lot of people that have helped me, and there's been a lot of those people that are here at Mountain Vista. I mean, Mr. Weaver's obviously helped me, and lots of athletic directors around the state have given me their advice and helped me. Mr. Paul Angelica has really influenced me and impacted me in a strong way. So I guess as far in this job and in my life, the people that have impacted me the most have definitely been my parents, especially my father, as he has taught me how to handle difficult situations should they arise.
Q. What are you most excited about this school year?
A. Well, I'm just excited for all the sports seasons and being able to attend all the different events. I'm looking forward to watching the kids enjoy their experience and watching the coaches and the kids working together.
Q. When did you find out you had been selected as the AD? What did the process consist of?
A. I found out that I was selected right before spring break of 2018. The process was applying for the job and then going into the process of getting an interview. The interview had three different portions to it. The first one was an interview with coaches, parents, and administrators in the building. Afterwards, I went to a room with students that were in the building and the students interviewed me for about 30 minutes. Finally, I had a one on one interview with Mr. Weaver. I think it was about 48 hours afterwards when they offered me the position.
Q. What are you most nervous about this school year?
A. I think that anytime you embark upon a new career there are always things that you just you don't know until you know and I think that as things come up, you have the opportunity to learn something as a result. You can't really go into anything with that type of mindset [of nervousness], you gotta go with the mindset of "I'm going to keep at the heart of what I'm doing, what my vision is, and what's best for kids".
Q. How do you want to represent Mountain Vista?
A. I just want to represent Mountain Vista in the best way possible. I look at Principal Mike Weaver as a great example of the way to represent Mountain Vista to the community, to the kids and to the coaches. I would like to echo what he does and what he says, putting kids first every day. I guess in athletics you would say "every kid every sport every day", and that's the way I look at what we do here at Mountain Vista. Putting kids first and making sure that coaches and kids are being put first is the number one priority here.