Mountain Vista Media
UPdate 02.11.2019 | MV MEDIA
Aerie | Eagle Eye | VistaNow.org | VistaNow Video
Experience The Experience.

Know your why. Why do you do what you do?
GOOD STUFF—
EXPERIENCES—
MediaWise is forming a network of paid teen fact-checkers across the country. Poynter is selecting a group of students who will help us produce fact-checks for various MediaWise platforms. The goal is to have each fact-checker contribute at least one fact-check a month, and they are looking for a commitment at least through the end of 2018. For more information, CLICK HERE. To apply, CLICK HERE. Questions: 

[email protected]

.
CONTESTS/SCHOLARSHIPS
New York Times | Learning Network 2018-19 Student Contests

Vocabulary Video Contest: Jan. 17-Feb. 18, 2019
Editorial Contest: Feb. 21-April 1, 2019
Found Poetry Contest: April 4-May 6, 2019
Podcast Challenge: April 18-May 20, 2019
Summer Reading Contest: June 14-Aug. 23, 2019

Quill and Scroll
We the Student Essay Contest (sponsored by the Bill of Rights Institute) | What are the essential qualities of a citizen in your community in 21st century America? (no more than 800 words). Awards: National Grand Prize– $5,000 (plus a scholarship to Constitutional Academy); runners Up– Six at $1,250 each; Honorable Mention– Eight at $500 each. CLICK HERE for all the details. Deadline: February 14, 2019 at 10:59 p.m.
Colorado Student Media Association Journalist of the Year/Greer Scholarship | A one-time award of $2,000 for an in-state college or $1,000 for out-of-state schools. Information HERE. Deadline: Feb. 15, 2019
Society of Professional Journalists High School Essay Contest | Topic: "What is the role and importance of the Fourth Estate in American society?" Awards: First Place: $1,000 scholarship; Second Place: $500 scholarship; Third Place: $300 scholarship. CLICK HERE for more information. Deadline: February 22, 2019
Jostens Photo Contest | Nine categories! Details: www.jostens.com/photocontest. Deadline: March 1, 2019.
Richard G. Zimmerman Scholarship via the National Press Club | For high school seniors who wish to pursue a career in journalism. Recipients receive a one-time award of $5,000. Information HERE. Deadline (postmark): March 1, 2019
NPR Student Podcast Challenge | National Public Radio is inviting students around the country to create a podcast and compete for a chance to win a grand prize and have you work appear on NPR. Information HERE. Deadline: March 31, 2019, at 9:59 p.m.
DCSD Journalism Awards | For online display of print stories, video journalism, and photography. Print Categories: General News (single article); Feature (single article); Series (multiple articles on one topic); Sports Feature/Story; Editorial Photography (Single Image); Publication (Complete Product); Photographer of the Year (portfolio, 7-10 photos); School Reporter of the Year (portfolio, 3-5 stories). Video Categories: General News (approx: 1-3 minutes ); Feature (approx: 2-6 minutes); Broadcast Production/Special Broadcast (compilation – 10 minute limit); Sports Broadcast (compilation – 10 minute limit); Sports Reporting (approx: 2-6 minutes); Live Coverage (compilation – 10 minute limit); Photographer of the Year (compilation – 10 minute limit); Reporter of the Year (compilation – 10 minute limit). Information (submission) coming soon. Deadline: Early April, 2019
Colorado Student Media Association Benson Scholarship | A $1,000 need-based award. Information HERE. Deadline: April 15, 2019
CSMA "…of the Year" Contests | Deadline: April 15, 2019
Dottie Roberts Foundation Scholarships | Scholarships ranging from $3,000 and $18,000 per year ti support young women who have an interest in publishing. Information TBA. Deadline: TBA, 2019
CSMA Best of Colorado Individual Student Contests | Information TBA. Deadline: TBA, 2019
QUILL AND SCROLL INTERNATIONAL HONOR SOCIETY FOR HIGH SCHOOL JOURNALISTS—
Quill and Scroll seeks to: (1) Encourage individual initiative in high school journalism, specifically in reporting, writing, design, leadership, photography and other related skills valuable to the journalistic endeavor; and (2) Recognize and reward the individual achievements of students engaged in journalistic activity. Eligibility requirements are: (a) must be of sophomore, junior or senior classification; and (b) must have the equivalent of a B grade average, or be in the upper third of their class in general scholastic standing.
Closed for the 2018-19 school year. Check back next year.
EPIC EXAMPLES and STORY IDEAS —
MV MEDIA GRADUATES—
WWW.4U.FUN—
JOURNALISM OPPORTUNITIES—
STUDENT MEMBERSHIPS IN PROFESSIONAL JOURNALISM ORGANIZATIONS—
BUSINESS PROFESSIONALS OF AMERICA—
Official website of BPA.
Workplace Skills Assessment Program | The WSAP Competitive Events program is the biggest cog of what makes BPA tick. Students prepare for and compete in contests in over 50 categories, under the four broad topics of Finance, Information Technology, Administrative Support, and Management/Marketing/Human Resources. (There are several journalism-related categories, including design, presentation, broadcast, website, public speaking and current events).
JOURNALISM NATIONAL CONVENTIONS—
April 25-28, 2019, Anaheim
November 21-24, 2019, Washington, D.C.
April 16-19, 2020, Nashville
November 19-22, 2020, Orlando
April 8-10, 2021, Seattle
Nov. 11-14, 2021, Philadelphia
April 7-9, 2022, Los Angeles
SUMMER 2019—
COOL STUFF—
Looking to create an online portfolio to showcase all of your epic work for college applications and/or contests, or just for you

personal creativity? Take a look at

Behance

by Adobe.

A mobile app is now available for free to help you learn the principles of the First Amendment. The app, available for your smartphone or your computer, explains the five freedoms protected by the First Amendment and features video clips of Dr. Dwight Teeter, a professor at the University of Tennessee and internationally known expert in First Amendment law. To download the app, click HERE.
---
Thank you for being part of MV Media!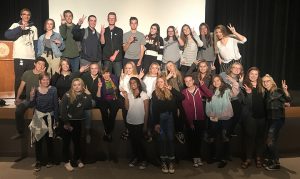 A MV Media Epic Experience: Mary Beth Tinker and the MV Media Cool Kids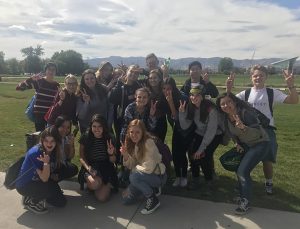 A MV Media Epic Experience: J-Day 2018 at Colorado State University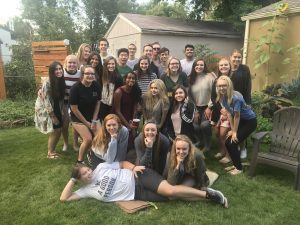 A MV Media Epic Experience: Staff Scavenger Hunt and BBQ at Newt's
---